The Kavita and Lalit Bahl Center for Metabolomics and Imaging is Stony Brook University Cancer Center's one-of-a-kind metabolomics and imaging translational research program. It capitalizes on Stony Brook University's expertise in three major areas – cancer research and treatment, imaging and metabolomics – to address one of the last critical frontiers in cancer research: metabolomics and lipidomics.
The Bahl Center is transforming precision-based cancer care. By combining Stony Brook's unique strengths in the basic sciences, applied mathematics and high performance computing with the human capital of its physicians and scientists, the center is driving research in body chemistry, diagnostics, therapeutics, intervention and prevention.
The result of the center's collective work will lead to more individualized care, earlier detection through identification of biomarkers, new treatment targets and more precise monitoring of treatment response. As these research breakthroughs are realized, public health policies can be shaped to better facilitate cancer prevention practices.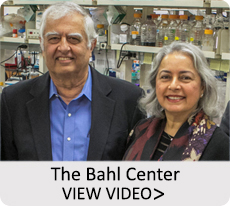 Transformative Gifts
The Bahl Center is made possible by two back-to-back gifts from Kavita and Lalit Bahl, totaling $13.75 million. The first gift allowed for the purchase of a cyclotron, a particle accelerator. A long-term plan for recruitment of expert faculty and development of a research sponsorship grant program is underway and will be funded by the second gift. This transformative donation elevates Stony Brook to the cutting edge of personalized cancer research, diagnostic imaging breakthroughs and evolving individualized cancer care far beyond what currently exists.
Leadership and Expertise
Yusuf A. Hannun, MD, Director of Stony Brook Cancer Center, Vice Dean for Cancer Medicine and Joel Strum Kenny Professor in Cancer Research, is an international leader in lipid biochemistry and the role of this metabolism in cancers. Dr. Hannun's studies, both individually, and together with his work and life partner, Lina Obeid, MD, have increased our understanding of the mechanism and regulatory strategies involved in lipid metabolism and their roles in cancers. As the Director of the Cancer Center, Dr. Hannun leads a team of surgeons and physicians who are experts in their fields.
Stony Brook provides unrivaled expertise in imaging. Stony Brook is part of the team who helped create the MRI. In fact, Stony Brook's contributions to MRI technology won a Nobel Prize. And one of our prominent Stony Brook faculty invented the major chemical used in PET scanning technology around the world. Nationally renowned expert Mark Schweitzer, MD, Professor and Chair, Department of Radiology, leads the advanced imaging activities at Stony Brook Medicine.
World-renowned scientist Joel Saltz, MD, PhD, Cherith Professor and Founding Chair, Department of Biomedical Informatics; Vice President for Clinical Informatics, Stony Brook Medicine; Associate Director, Stony Brook University Cancer Center, will provide invaluable expertise in computational oncology as our research progresses. He has already make a significant impact at Stony Brook by developing an integrative biomedical informatics platform.
Cyclotron and Advanced Imaging
Stony Brook physician-scientists helped develop PET technology. Now Stony Brook has some of the world's foremost PET researchers. Two PET scanners are located in close proximity to the cyclotron. The particle accelerator is used to create novel tracer molecules for PET scanning, which allows advanced diagnostics through molecular imaging within the human body. The Bahl Center and its laboratories are located in the Medical and Research Translation (MART) building on Lauterbur Drive.
Top Research Talent
The generous gifts from Kavita and Lalit Bahl have allowed Stony Brook Cancer Center to recruit top experts in all related fields and conduct revolutionary research. New faculty will include an oncologic imaging researcher, a matrix-assisted laser desorption ionization (MALDI) researcher and a magnetic resonance (MR) spectroscopy researcher. In a second recruitment phase, expansion will continue with the hiring of new faculty in the area of experimental therapeutics and will benefit from additional research funding.
Looking to the Future
Each of the research elements within the Bahl Center will drive cancer investigation, so that we can better understand many forms of cancer, create better diagnostics and improved therapeutics, and even devise new preventive methods.
Learn more about the center's overall cancer research goals.