Officials from Stony Brook Medicine and Stony Brook Southampton Hospital broke ground this summer on a new facility that promises to make top level cancer care more easily available to East End residents when it opens next year.
A groundbreaking ceremony for the new Phillips Family Cancer Center, located on County Road 39, was held on June 10. The expected opening date is in late 2018.
"With academic medicine as the foundation for this new facility, the highest quality cancer care will be accessible by our neighbors to the east," said Ken Kaushansky, MD, Senior Vice President for the Health Sciences and Dean of the School of Medicine. "We look forward to providing patients and their families with quality clinical care, novel research studies and advanced technology."
Housed in a two-level 13,800-square-foot building, the Phillips Family Cancer Center will offer the full gamut of cancer services, from diagnostics and treatment to support services. In addition to surgical and medical oncologic expertise, radiation therapy will be given on a state-of-the art linear accelerator in a radiation oncology suite. Patients will be able to participate in clinical trials based at Stony Brook University Cancer Center.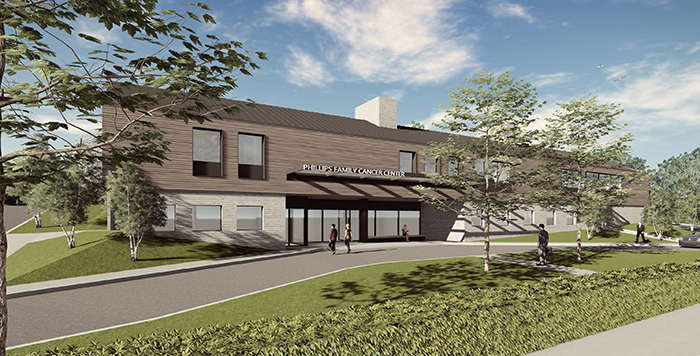 A rendering of the future Phillips Family Cancer Center, which will be a modern, state-of-the-art facility designed by Bridgehampton architect Blaze Makoid.
"Our patients deserve the highest quality healthcare, right in their own neighborhood. This initiative is a perfect reflection of how our services are strengthened by joining Stony Brook Medicine," said Robert Chaloner, Chief Administrative
Officer for Stony Brook Southampton Hospital.
"We're tremendously grateful to the Phillips family for their philanthropic support in bringing this project to fruition."
The center was created with a generous gift from the Phillips family, along with subsequent fundraising. An ongoing philanthropic campaign will raise additional funds to acquire equipment and medical technology, as well as develop new programs and services.
"The Phillips Family Cancer Center will become a model for how patients with cancer obtain the best in cancer medicine close to home," said Yusuf A. Hannun, MD, Director of Stony Brook Cancer Center and Vice Dean of Cancer Medicine. "This aligns with our mission to serve all those in Suffolk and Nassau counties who need care from highly specialized experts at the forefront of cutting-edge research and clinical trials."
"The Phillips Family Center will bring life-changing services to those living with cancer on the East End of Long Island," said Kevin Unruh, Vice President of Imaging and Cancer Services at Stony Brook Southampton Hospital. "A facility offering everything from treatments to support in one convenient location has never been more crucial."
Research Programs Beneficial to Patients
Stony Brook Cancer Center has more than 60 cancer-related research projects taking place across both the University and Medicine campuses, which includes 70 cancer clinical trials. A large percentage of the clinical trials are initiated by Stony Brook physicians.
"Each of the multidisciplinary cancer teams is empowered to lead clinical trials, which helps patients now and in the future," said Deputy Director for Clinical Affairs, Stony Brook Cancer Center Samuel Ryu, MD. "We anticipate the opening of the Phillips Family Cancer Center with great excitement, where we can provide optimal patient care, as well as an array of clinical trials."
Design Inspiration
The Phillips Family Cancer Center takes its design inspiration from the longstanding farming history of Long Island. It will be light-infused, with a raised cathedral ceiling, as well as contain many large windows and skylights. This will allow patients, visitors and staff views out to an adjacent contemplative garden and surrounding abundant landscaping to provide a relaxing and restorative environment.
Top photo, from left: Kenneth Wright, Chair, Southampton Hospital Association Board of Directors; Yusuf A. Hannun, MD, Director, Stony Brook Cancer Center; New York State Assemblyman Fred W. Thiele, Jr.; Southampton Village Mayor Mark Epley; Kenneth Kaushansky, MD, MACP, Senior Vice President, Health Sciences and Dean, School of Medicine, Stony Brook University; Robert Chaloner, Chief Administrative Officer, Stony Brook Southampton Hospital; Samuel Ryu, MD, Deputy Director, Clinical Affairs, Stony Brook Cancer Center; and Andrew Phillips.
For more information: Stony Brook Welcomes Southampton Hospital to Its System
For more information: Designing The Phillips Family Cancer Center