2019
Study Probes Effect of Anesthesia on Breast Cancer Outcomes
A Stony Brook-led study will investigate where anesthesia management during breast cancer surgery affects long-term patient outcomes

Surgery offers the best hope to cure breast cancer when disease does not spread. However, breast cancer that spreads to distant organs accounts for most of breast cancer deaths. Therefore, researchers continue to investigate how breast cancer metastasizes and what causes or affects disease spread.
Jun Lin, MD, PhD, a Professor in the Department of Anesthesiology at the Renaissance School of Medicine at Stony Brook University, leads a research team studying the effects of anesthetics on metastasis following breast cancer surgery.
Read full article
2018
Lung Cancer Survivor Rates Higher Using Multidisciplinary Care Model
Published study of more than 4,000 patients reveals better survival compared to standard care
An investigation of short-term and long-term survival outcomes of more than 4,000 lung cancer patients reveals that patients treated under a multidisciplinary model of care have significantly higher survival rates at one, three, five, and 10 years post diagnosis compared to patients treated with a standard or traditional model of care. The study, published online in Clinical Lung Cancer, was conducted by investigators at the Lung Cancer Evaluation Center (LCEC) at Stony Brook University Cancer Center.
Read full article
Removing the Most Common p53 Mutation in Colorectal Cancer Halts Disease Progression
By genetically manipulating and removing the most common mutant form of the p53 gene that promotes colorectal cancer in humans, an international team of scientists demonstrated that this therapy reduces tumor growth and tissue invasion. Led by Ute Moll, MD, Professor and cancer biologist in the Department of Pathology at Stony Brook University School of Medicine, the findings are published in Cancer Cell.
Read full article
Understanding Breast Cancer – Using Advanced Imaging to Unravel its Molecular Secrets
With breast cancer, the most common form of cancer in women globally, scientists at Stony Brook University, are on a mission to establish how the disease starts and progresses at the detailed molecular level.
Read full article
Targeting K17 in Pancreatic Cancer
Drs. Kenneth Shroyer and Luisa Escobar-Hoyos receive $500,000 from PanCAN to advance research
Keratin 17 (K17), a protein that promotes cancer, may prove to be a key target gene in the battle against pancreatic cancer. New research involving K17 as a therapeutic target against this lethal disease is being conducted by Kenneth Shroyer, MD, PhD, the Marvin Kuschner Professor and Chair of Pathology at Stony Brook Medicine, and Luisa Escobar-Hoyos, PhD, Assistant Professor and Co-Director of the Pathology Translational Research Lab. The Pancreatic Cancer Action Network (PanCAN) awarded Drs. Shroyer and Escobar-Hoyas a $500,000 grant to carry out this research. This is the first time a PanCAN grant has been awarded to Stony Brook University. The two-year award will begin July 1, 2018.
Read full article
New Non-Invasive Test For Urothelial Cancer Emerging
Urothelial cancers of the bladder and upper urinary tract are among the most common cancers encountered worldwide. In the United States, urothelial cancers are among the most costly cancers to treat. With early diagnosis, followed by surgery, most urothelial cancers can be cured. Now an international team of cancer researchers including Kate Dickman, PhD, of the Department of Pharmacological Sciences and Medicine/Nephrology at Stony Brook University School of Medicine have developed a highly sensitive and specific non-invasive test as a biomarker for early detection of urothelial cancers. Details of this method known as UroSEEK, are published in eLife.
Read full article
Images of Polyps Plus Tissue Data May Help Predict Cancer
By using computed tomography colonography (CTC), also known as virtual colonoscopy, to image many types of polyps, and matching those images to detailed gene expression data of those polyps, researchers may be able to determine what types of polyps will turn into cancer and which may not.
Read full article
For more Stony Brook University and Stony Brook Medicine news articles published in 2018, click here.
2017
Stony Brook University Cancer Center Receives New Dose of Philanthropy
Cancer Prevention Fellowship Established with $1 Million Endowment from George and Olga Tsunis
As a symbol of their shared commitment to fighting cancer and as a nod to their great pride in their Greek ancestry, George and Olga Tsunis have established an endowed fellowship for an MD or PhD pursuing biomedical research at the Stony Brook University Cancer Center. The Tsunis Fellowship for Cancer Prevention has been created to attract a well-qualified scholar from Greece or of Greek decent, with the goal of training these physicians and scientists at Stony Brook, and then returning them to Greece to help the country overcome its current difficulties.
The George and Olga Tsunis Fellow will learn the process of how new and novel drugs can be developed for the treatment of cancer. Such knowledge could be applied in Greece to improve the treatment of cancer patients; conduct clinical trials of new drugs; and foster academia-pharmaceutical industry interactions on drug development.
Read more
For more Stony Brook University and Stony Brook Medicine news articles published in 2017, click here.
2016
Patricia Thompson-Carino, PhD, Named Deputy Director for Research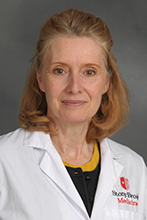 Yusuf A. Hannun, MD, Director of the Stony Brook University Cancer Center, Vice Dean for Cancer Medicine, and the Joel Kenny Professor of Medicine, has announced the appointment of Patricia Thompson, PhD, to the position of Deputy Director for Research at Stony Brook University Cancer Center. In her new role, Dr. Thompson will oversee all research activities in the Cancer Center, as well as develop overall strategic plans for the Cancer Center in conjunction with Dr. Hannun and Samuel Ryu, MD, Deputy Director, Clinical Affairs, Cancer Center.
Dr. Thompson joined Stony Brook in 2014 as Professor of Pathology and Associate Director for Basic Research in the Cancer Center. Her research is focused primarily on the discovery and validation of biomarkers to identify individuals at greatest risk for cancer recurrence.
Dr. Thompson leads a nationally prominent research program that concentrates on the evolution of molecular and cellular changes that occur during the development of colorectal and breast cancer. Because those cancers both have an inflammatory component and an immune element, the research explores what is shared by them that could be common targets for prevention and treatment.
"Our goal is to help advance the development of more precise and effective targeted therapies," said Dr. Thompson. "The better we understand the way cancer progresses, the better we will be at discovering methodologies for treating patients with cancer."
The author of more than 100 important research manuscripts, Dr. Thompson is a member of a number of national grant review panels, and has served as principal investigator for several research grants from the National Cancer Institute (NCI).
"Dr. Thompson has an outstanding track record of achievements, and since joining Stony Brook she has taken on significant leadership roles," said Dr. Hannun. "She brings special and unique abilities in the war against cancer, and will help the Cancer Center continue to push the envelope in diagnosis, treatment and prevention."

For more Stony Brook University and Stony Brook Medicine news articles published in 2016, click here.
2015
Strategic and Collaborative Approach to Lung Cancer Research (July 2015)
Researcher Publishes Findings on Nuclear Medicine Test for Patients with Cancer
Dr. Choi Co-Authors Article on FDG-PET for Colorectal Cancer
Research Cautions On False Positives For Cancer With PET Scans (6/29/15)
Virtual Pancreatography Research Receives Funding from Marcus Foundation (6/16/15)
Stony Brook Enters Licensing Deal to Bring Anti-Cancer Technology to Market (6/15/15)
Removing Mutant p53 Significantly Regresses Tumors, Improves Cancer Survival (5/26/15)
Toward Mentoring Excellence, Stony Brook University Commits Resources to SU2C (3/25/15)
Cancer Center Advances Research Program with New Pathology Expertise (1/6/15)

For more Stony Brook University and Stony Brook Medicine news articles published in 2015, click here.
2014
Professor Iwao Ojima Named a Fellow of the National Academy of Inventors (12/16/14)
The Jesse & Julie Rasch Foundation Supports Cancer Research
Strategic and Collaborative Approach to Lung Cancer Research
For more Stony Brook University and Stony Brook Medicine news articles published in 2014 and before, click here.