2017
Stony Brook University Cancer Center Receives New Dose of Philanthropy
Cancer Prevention Fellowship Established with $1 Million Endowment from George and Olga Tsunis
As a symbol of their shared commitment to fighting cancer and as a nod to their great pride in their Greek ancestry, George and Olga Tsunis have established an endowed fellowship for an MD or PhD pursuing biomedical research at the Stony Brook University Cancer Center. The Tsunis Fellowship for Cancer Prevention has been created to attract a well-qualified scholar from Greece or of Greek decent, with the goal of training these physicians and scientists at Stony Brook, and then returning them to Greece to help the country overcome its current difficulties.
The George and Olga Tsunis Fellow will learn the process of how new and novel drugs can be developed for the treatment of cancer. Such knowledge could be applied in Greece to improve the treatment of cancer patients; conduct clinical trials of new drugs; and foster academia-pharmaceutical industry interactions on drug development.
"Stony Brook's cancer research enterprise will be further propelled by the passion and generosity of Olga and George Tsunis," said Samuel L. Stanley Jr., MD, President of Stony Brook University. "Their leadership by example will inspire and enable a new generation of Greek researchers and collaborators who, along with Stony Brook, strive toward the bold pursuit of a world without cancer."
The Stony Brook Cancer Center, led by Director Yusuf A. Hannun MD, is home to some of the most promising new ideas in cancer research today. At its new and unique cancer-fighting enterprise, the Kavita and Lalit Bahl Center for Metabolomics and Imaging, Hannun and his team are pivoting from studying one cancer —as most other centers do— to studying the genesis of all cancer at the molecular level.
Stony Brook Cancer Center is clearly an investment that promises George and Olga Tsunis a significant return on their investment. A prominent business leader, George Tsunis is the founder, chairman and chief executive officer of Chartwell Hotels, which owns, manages and develops hotels under the Hilton, Marriott and InterContinental Hotels Group franchises. An attorney and developer, Tsunis is highly sought out for his expertise in public policy at the intersection of economic and foreign affairs.
Kenneth Kaushansky, MD, Dean of the School of Medicine and Senior Vice President of Health Sciences, points out that recruiting top graduate students from around the world adds immeasurable value to the School of Medicine's research engine. "We want the best minds working shoulder to shoulder with our faculty bringing new perspectives and a cross-cultural dimension to solve complex problems."
"Imagine if the George and Olga Fellow working alongside a Greek American contributed to the ultimate goal of preventing or curing cancer," said Mr. Tsunis. "That would be remarkable achievement for Olga and me as well as the Greek community."
2016
Patricia Thompson-Carino, PhD, Named Deputy Director for Research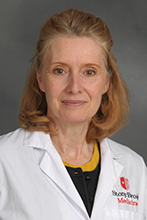 Yusuf A. Hannun, MD, Director of the Stony Brook University Cancer Center, Vice Dean for Cancer Medicine, and the Joel Kenny Professor of Medicine, has announced the appointment of Patricia Thompson, PhD, to the position of Deputy Director for Research at Stony Brook University Cancer Center. In her new role, Dr. Thompson will oversee all research activities in the Cancer Center, as well as develop overall strategic plans for the Cancer Center in conjunction with Dr. Hannun and Samuel Ryu, MD, Deputy Director, Clinical Affairs, Cancer Center.
Dr. Thompson joined Stony Brook in 2014 as Professor of Pathology and Associate Director for Basic Research in the Cancer Center. Her research is focused primarily on the discovery and validation of biomarkers to identify individuals at greatest risk for cancer recurrence.
Dr. Thompson leads a nationally prominent research program that concentrates on the evolution of molecular and cellular changes that occur during the development of colorectal and breast cancer. Because those cancers both have an inflammatory component and an immune element, the research explores what is shared by them that could be common targets for prevention and treatment.
"Our goal is to help advance the development of more precise and effective targeted therapies," said Dr. Thompson. "The better we understand the way cancer progresses, the better we will be at discovering methodologies for treating patients with cancer."
The author of more than 100 important research manuscripts, Dr. Thompson is a member of a number of national grant review panels, and has served as principal investigator for several research grants from the National Cancer Institute (NCI).
"Dr. Thompson has an outstanding track record of achievements, and since joining Stony Brook she has taken on significant leadership roles," said Dr. Hannun. "She brings special and unique abilities in the war against cancer, and will help the Cancer Center continue to push the envelope in diagnosis, treatment and prevention."
2015
Strategic and Collaborative Approach to Lung Cancer Research (July 2015)
Researcher Publishes Findings on Nuclear Medicine Test for Patients with Cancer
Dr. Choi Co-Authors Article on FDG-PET for Colorectal Cancer
Research Cautions On False Positives For Cancer With PET Scans (6/29/15)
Virtual Pancreatography Research Receives Funding from Marcus Foundation (6/16/15)
Stony Brook Enters Licensing Deal to Bring Anti-Cancer Technology to Market (6/15/15)
Removing Mutant p53 Significantly Regresses Tumors, Improves Cancer Survival (5/26/15)
Toward Mentoring Excellence, Stony Brook University Commits Resources to SU2C (3/25/15)
Cancer Center Advances Research Program with New Pathology Expertise (1/6/15)
2014
Professor Iwao Ojima Named a Fellow of the National Academy of Inventors (12/16/14)
The Jesse & Julie Rasch Foundation Supports Cancer Research
Strategic and Collaborative Approach to Lung Cancer Research
2011
Cancer Drug Shows Increased Risk of Death When Used In Combination With Other Therapies (2/2/11)