Registration is open for the 11th ICC,

19-22 April 2021
---
Biochemistry of lipids and membranes
2021 ASBMB Annual Meeting
April 27–30 | Virtual
Sessions in this track include:
Novel roles of lipids in health and disease

How lipids impact the structure and function of membrane proteins

Membrane biogenesis and trafficking
---
5/2020. Link below for the Eureka undergraduate symposium.
You will be able to view Jonathan and Sally's posters (Medicine) and Erika's (BioInformatics).
Poster symposium - https://you.stonybrook.edu/urecavirtualcelebration2020/2020-ureca-virtual-posters/
---
Save The Date:
The 11th iCC will be held April 18th – 22nd 2021, Charleston, South Carolina. This meeting will be dedicated to the legacy of Dr. Lina Obeid, a true giant in the sphingolipid field, with a special session and creation of a new award: The Lina M. Obeid Young Investigator Award
---
FASEB Science Research Conference
The Phospholipids Conference: Dynamic Lipid Signaling in Health and Disease
August 9-14th, 2020
Steamboat Springs, CO
https://src.faseb.org/phospholipids
---
Research Symposium July 10, 2020
SBU
---
FASEB Science Research Conference
The Cell Signaling in Cancer Conference: From Mechanisms to Therapy
June 14-18th, 2020
Tucson, AZ
https://src.faseb.org/cellsig/Home#top
---
AACR American Association for Cancer Research
April 24-29, 2020
San Diego Convention Center
San Diego, California
https://www.aacr.org/meeting/aacr-annual-meeting-2020/
---
Gloria & Mark Snyder Symposium April 21, 2020
SBU Hilton Garden Inn
---
Gordon Research Conference
A Holistic Approach to Understanding Simple and Complex Sphingolipids
Renaissance Tuscany Il Ciocco, Via Giovanni Pascoli, Lucca (Barga), IT
---
DOM Research Retreat
Friday, March 20th, 2020 (12 noon-5pm)
Hilton Garden Inn, Stony Brook
---
2019 Stony Brook Cancer Center Breast Cancer Retreat
November 15, 2019, Noon – 5 PM, Hilton Garden Inn
---
Louis Viglietta and Samia Mohammed at the Simons summer research program poster presentation, 8/9/19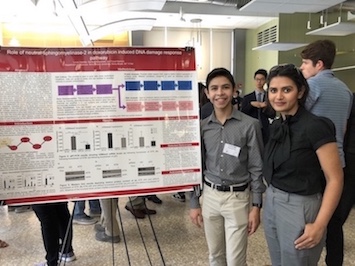 ---
Dr. Senkal's goodbye party, 7/23/19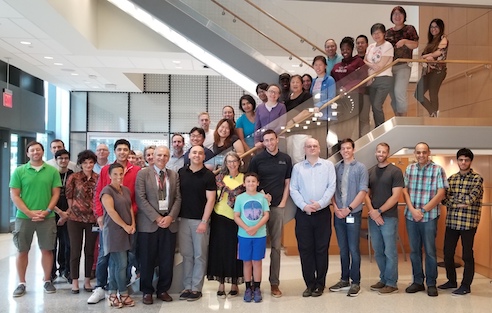 ---
The lab had their paper "Probing compartment-specific sphingolipids with targeted bacterial sphingomyelinases and ceramidases" by Wataru Sakamoto, Daniel Canals, Silvia Salamone, Janet Allopenna, Christopher Clarke, Justin Snider, Lina Obeid, and Yusuf Hannun accepted for publication in the Journal of Lipid Research. This paper, originating from the Hannun lab, details the use of bacterial enzymes targeted to specific cellular compartments such as the Golgi and ER as tools to probe their sphingolipid composition. As there is a growing appreciation of the compartmentalization of sphingolipid metabolism and signaling, these constructs add valuable tools for probing such functions.
---
The lab had their paper "PKCα is required for Akt-mTORC1 activation in Non-Small Cell Lung Carcinoma (NSCLC) with EGFR mutation" by Yusuf Hannun, Mohamed Salama, Mengling Liu, Christopher Clarke, Mel Pilar Espaillat, John Haley, Lina Marie Obeid, Daifeng Wang, and Ting Jin accepted for publication in Oncogene. This paper, originating from the Hannun lab with help from the Obeid lab, details the role of PKCα as an upstream activator of Akt-mTORC1 signaling specifically in lung cancers harboring mutant but not wild-type EGFRs. This establishes PKCα as a target of interest in such lung cancers.
---
16th International Conference on Bioactive Lipids in Cancer, Inflammation and Related Diseases
St. Petersburg, Florida
Oct. 20-23, 2019
Yusuf Hannun, MD and Lina Obeid, MD selected as the first dual recipients of the Lifetime Achievement Award for their pioneering work on the role of ceramide and sphingolipids in aging.
Click here to learn more