Contact Information
Office 
(631) 444-3000
Email 
Kenneth.Shroyer@stonybrookmedicine.edu
Stony Brook Medicine
Department of Pathology
Basic Sciences Tower, Level 9, Rm 140
Stony Brook, NY 11794-8691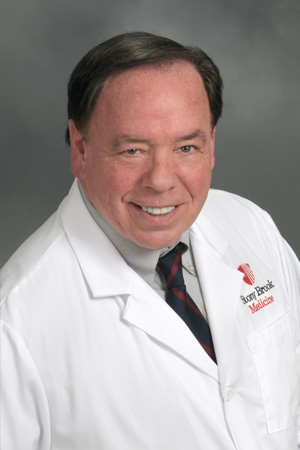 Shroyer Research Lab
Kenneth R. Shroyer, MD, PhD
Interim Associate Director, Basic Science,
Stony Brook University Cancer Center
The Marvin Kuschner Professor and Chair, Department of Pathology,
Renaissance School of Medicine at Stony Brook University
Research Program
Imaging, Biomarker Discovery and Engineering Sciences
Department
Department of Pathology
Research Interest
Dr. Shroyer pioneered novel methods to improve the accuracy of the cytologic and histologic classification of tumors. He completed his graduate training in Experimental Pathology under the supervision of Dr. Paul K. Nakane, the inventor of the immunoperoxidase method, invented the method of DNP labeling of nucleic acid probes, and was a pioneer in the development of methods for in situ hybridization of mRNAS in the early 1980s. He subsequently authored the first report on the analysis of x-chromosome inactivation in archival tissues as a marker of clonality. Dr. Shroyer contributed to the early validation of tyramide-based signal amplification technology for in situ hybridization and high sensitivity immunohistochemistry and he has been engaged in the development of novel approaches for antibody labeling using nanoparticles for both in vivo imaging and for immunohistochemical applications in collaboration with scientists in biomedical engineering for over ten years. Ongoing areas of investigation in Dr. Shroyer's laboratory are focusing on the discovery of the mechanistic basis of nuclear keratin 17 as a prognostic biomarker in carcinomas of the female genital tract, pancreas, and other anatomic sites.
Education
B.A., Biology, Colorado College, Colorado Springs, CO, 1978   
Ph.D., Experimental Pathology, Univ. of CO Graduate School, Denver, CO, 1983   
Publications
A complete list of publications can be found 
HERE
.