CANCER RESEARCH
Contact SBCC Here
Stony Brook Cancer Center
Lauterbur Drive
Stony Brook, NY 11794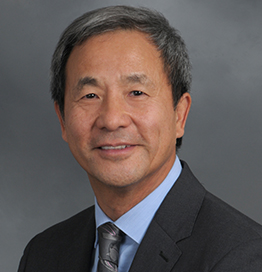 Ke Jian "Jim" Liu, PhD
Associate Director for
Basic Science,
Stony Brook Cancer Center
Stony Brook Cancer Center's research programs aim to leverage and build on the existing exceptional strengths at Stony Brook University (SBU). One of these areas is STEM: science, technology, engineering and mathematics. The future of cancer research is being shaped to a significant extent by the need for computational sciences and more innovative approaches from the physical and engineering sciences, areas where SBU excels. There is also great strength in imaging sciences at SBU. SBU is proud of its contributions to human imaging research, such as the contribution to the discovery and development of the MRI, as well as the development of ultra-low dose CT for colon cancer screening (virtual colonoscopy). Currently, other procedures are under development: virtual thoracoscopy for lung cancer and virtual pancreatoscopy for pancreatic disease along with advancing novel tomosynthesis for breast imaging. Additional areas of strength at SBU include bioinformatics and also the study of cancer lipids and metabolism, including a world-renowned and highly utilized Lipidomics Shared Resource.
In culmination of deep analysis and planning by SBCC leadership, three distinct Research Programs were established that build on these areas of strength within SBU and the SBCC:
1) Oncogenic Drivers and Mechanisms of Carcinogenesis (ODMC);
2) Imaging, Biomarker Discovery, and Engineering Sciences (IBES); and
3) Lipid Signaling and Metabolism in Cancer (LSMC).
These programs are defined in detail in the links below.