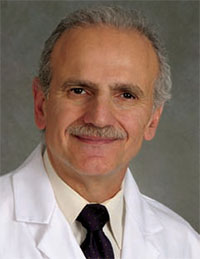 As the Director of Stony Brook Cancer Center, I want to personally invite you to explore our website, which has been developed as a resource for patients with cancer and their families and friends, physicians and community members. We believe that an informed patient is an empowered patient, so please use it as an important source of information as you or a loved one goes through cancer diagnosis, treatment and recovery.
Because the Cancer Center is constantly growing — recruiting new physicians and researchers, expanding existing programs, initiating new clinical trials, debuting the latest clinical interventions – the website will be continually updated to reflect this. To me, this progressive, dynamic approach to medicine is just one of the many reasons why being the Cancer Center's director is such an incredible and rewarding challenge.
My vision as the director is to build on the existing strengths of what is already one of the most effective cancer centers in the region. What happens at the Stony Brook Cancer Center will make a difference in the study and practice of cancer medicine – both in Suffolk County and around the world. We are already doing that by increasingly integrating research with clinical care so that treatments move as quickly as possible from the laboratory to the patient.
Our outpatient cancer center occupies two floors of the state-of-the art Medical and Research Translation (MART) building, located on Lauterbur Drive. The additional floors of this building are devoted to basic and translational research, as well as biomedical and bioinformatics. Here, our clinicians and researchers are joining forces to collaborate to build the most comprehensive, integrated, and unified team with one singular purpose: to investigate, discover and drive innovation in cancer treatment and prevention.
All these efforts have but one goal: to provide the safest, most effective and highest quality cancer care to every individual who seeks treatment through our Cancer Center. As you peruse these web pages, you'll see how this goal is interwoven into everything we do, from our twelve Cancer Care teams and the individual plans of care to highly targeted radiation treatments and minimally invasive surgeries. The fact that we can deliver such comprehensive and high-level resources to you in your own community is yet another reason I feel privileged to be at the Cancer Center's helm. Welcome.
Sincerely,

Yusuf A. Hannun, MD
Director, Stony Brook Cancer Center
Vice Dean for Cancer Medicine
Joel Strum Kenny Professor in Cancer Research