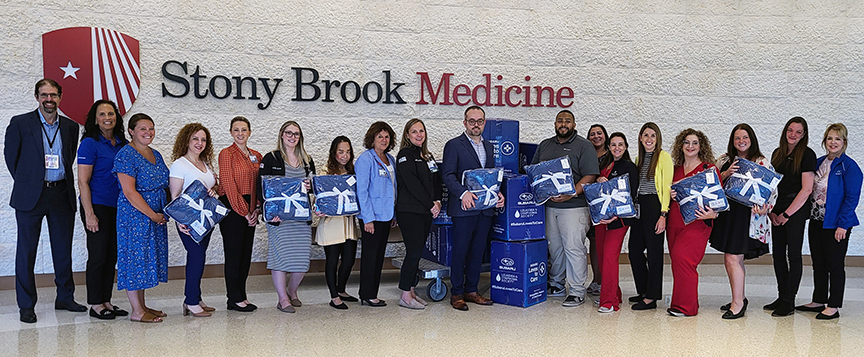 While undergoing treatment for cancer, patients are grateful for any soothing or entertaining activity that can bring some comfort and distraction to pass the time.
And it is in this grateful spirit that Stony Brook Medicine welcomed a donation from the Competition Subaru of Smithtown team, led by general manager Jim Buzzetta, on July 20. The gifts will provide comfort and fun activities for patients being treated for blood cancers.
The donation includes individually packaged comfortable cotton blankets that will be distributed to the inpatient unit at Stony Brook University Hospital, where adult patients with blood cancer receive treatment. A portion of these will also be given to both adult and pediatric patients who undergo treatments in the Infusion Suites at Stony Brook Cancer Center's outpatient center. At Stony Brook Children's Hospital, children receiving care for blood cancers will enjoy care kits that contain colored pencils, puzzle and activity books. 
In addition, all patients will be given "Message of Hope" cards that were completed by people who have visited Subaru showrooms during June, Subaru Loves to Care month. The cards allow community members to show support for patients by sending encouraging messages of hope, strength and courage. 
The Leukemia & Lymphoma Society (LLS) Metro New York partners with Long Island Subaru dealerships, which falls under the national Subaru Loves to Care initiative. The LLS is the world's largest voluntary (nonprofit) health organization dedicated to funding blood cancer research and providing education and patient services. Stony Brook Cancer Center works closely with LLS's Metro New York Region office throughout the year. They offer a wide range of free educational and support programs for patients, their families, caregivers and healthcare professionals.
Pictured (l to r): 
Dr. Aaron Sasson, Chief Surgical Oncology Division, Director, Cancer Center Clinical Operations
Regina Medina, Sales Consultant, Competition Subaru of Smithtown
Meaghan Neary, Campaign Development Director, The Leukemia & Lymphoma Society, Metro New York 
Anna Perez, Asst Director Nursing, Outpatient Adult Infusion, Outpatient Pediatric Hematology/Oncology and Infusion, Stony Brook Cancer Center/Valerie Fund Children's Center   
Megan Aiello, Assistant Vice President, Stony Brook Cancer Center
Katarina Siliris, Pediatric Oncology Social Worker, Dept. Pediatric Hematology/Oncology, The Valerie Fund Childrens Center, Stony brook Children's Hospital 
Lauren Sharaby, Certified Child Life Specialist, Dept Pediatric Hematology Oncology, Stony Brook Children's Hospital, The Valerie Fund Children's Center 
Christina Faber, Director, Cancer Center Support Services
Samantha Conti, Oncology Social Worker, Stony Brook Cancer Center
Jim Buzzetta, General Manager, Competition Subaru of Smithtown
Luis Paulino, Parts Specialist, Competition Subaru of Smithtown
Tara Jerome, Marketing Manager, Competition Subaru of Smithtown
Meghan Harris, RN Supervisor, 19S Bone Marrow Transplant
Taylor Andrews, Nurse Manager, Asst. Director Nursing, Bone Marrow Transplant Unit
Kathleen Scotto, RN Supervisor, Nurse Educator, 19S Bone Marrow Transplant
Lori Machansky, Online Marketing Specialist, Competition Subaru of Smithtown
Melody Calcano, Service Advisor, Competition Subaru of Smithtown
Corinne Johnson, Sales Customer Care Coordinator, Competition Subaru of Smithtown