Celebrating 5,000th Screening on the Mammography Mobile Van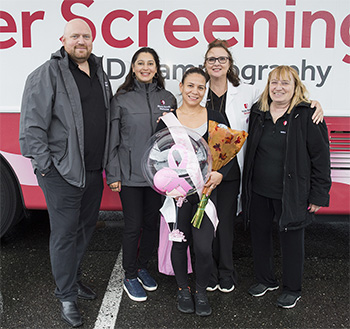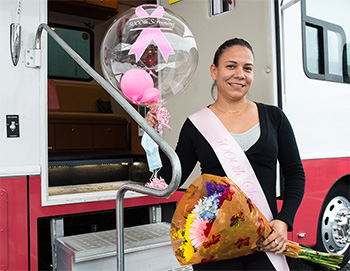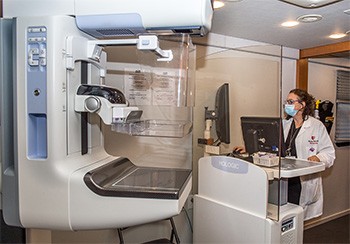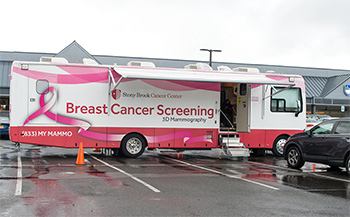 Photo captions: Patrick J. Dineen, MD, MBA; Liana Orduña, Mobile Mammography Program Associate Coordinator; Darlene M. Rastelli, MS, RT, (R) (M), Assistant Director of Radiology Breast Services; Linda Bily, Community Outreach Educator and Advocate; with Lida Grajales from Brentwood, who was the 5,000th woman screened through the program. 
On September 22, Stony Brook Cancer Center's Mobile Mammography Van arrived at a milestone: providing its 5,000th cancer screening. Since 2018, the custom-built, 40-foot state-of-the art van has been on the road to offer free mammograms in Nassau and Suffolk communities. 
"We're bringing healthcare to people who find it difficult or burdensome get to a doctor's office or the hospital," said Patrick J. Dineen, MD, MBA, program coordinator for Stony Brook Cancer Center's Mammography Mobile Screening Program. "The beautiful thing about this mobile program is the positive impact it has on the communities we serve. Over half the patients screened on the mobile unit are uninsured and this allows them to get a mammogram at no cost."
On the mobile unit, which has the latest 3D digital mammography equipment, patients have an individualized experience as only one is allowed in at a time. There's a comfortable check-in area, one-way windows, a fully equipped exam room, a changing room and the mammography suite. In addition to a free mammogram, all patients leave with educational materials. Fifteen minutes is all it takes to participate in this valuable service. 
            
"It's important to Long Island because this mobile unit is making it much easier for women to access mammograms," Dr. Dineen said. "We're bringing the same great care you get at Stony Brook Cancer Center right to them, in their own neighborhood."
The program also guides patients through the process if they need follow-up imaging, a biopsy or treatments.
Dr. Dineen said they get calls from businesses, churches, school districts, libraries and other organizations that want the van at their events. Many ask that they return a few times a year. He added that at one event, for two years in a row, they've detected three cancers. 
Since the program's inception, cancer has been diagnosed in 27 women. When cancer is detected, the patient is given information on local cancer treatment centers. Patients choose where they want to have their follow-up care. More than 80 percent of the patients who have been diagnosed through the mobile screening program have elected to be treated at Stony Brook Cancer Center. 
            
Over the last several months, the program has expanded services on the mobile unit. In the exam room, blood pressures, cholesterol screenings, and blood glucose levels can be performed. FIT (fecal immunochemical test) kits that contain materials for noninvasive colon cancer screenings are also distributed for individuals to complete at home. 
Noting that the van itself is a rolling billboard to remind women to get their annual mammogram, Dr. Dineen said the more events they do, the more patients call for appointments. "Our mission is always to increase the number of screenings and what we're offering to the community."  
While people are encouraged to schedule an appointment, the van can accommodate walk-ins. For more information, call
833-MY-MAMMO or visit bit.ly/SBMammoVan. For a virtual tour of the van, visit bit.ly/virtualtour_van.