In New York State, breast cancer is the most commonly diagnosed cancer and the second leading cause of cancer death among women. Mammograms and breast cancer screening can detect cancer at early stages, when it's often the most treatable. But there are areas in Suffolk and Nassau counties where it's not easy for patients to get screening, and some women face transportation, scheduling, financial and other barriers to getting this lifesaving screening. 
Stony Brook University Cancer Center operates and staffs a mobile mammography van made possible by two grants, totaling more than $3 million, from the New York State Department of Health. The van travels to underserved areas, as well as providing convenience to all women on Long Island – at corporate locations, community centers and other establishments. The van provides easy access to mammograms for women who otherwise might not get them.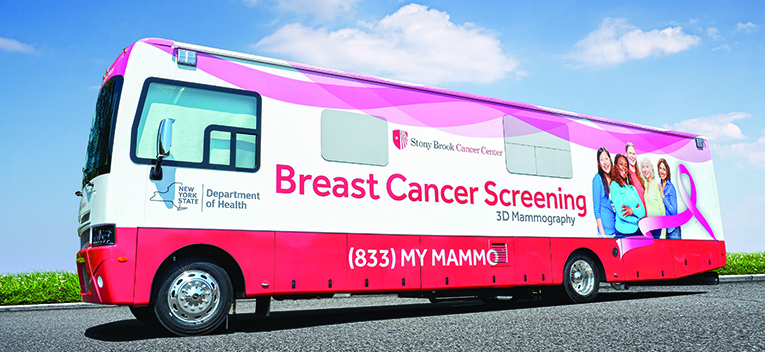 Schedule Your On-the-Van Mammogram


The Mobile Mammography Van offers screenings for women, 40 years of age and older. 
Screening provided regardless of ability to pay
If a woman has health insurance, her provider will be billed. If she doesn't have health insurance, the cost will be processed through the Cancer Services Program of New York, if eligible.
Full-service screening 
The custom-designed 40-foot van is completely self-contained with a comfortable waiting area, private dressing room and a complete exam room. 
State-of-the-art 3D digital mammograms are performed by Stony Brook Medicine radiologic technologists who have advanced training in mammography. 
The images are read by board-certified radiologists. 
Further screening, including a manual breast exam, is performed by registered nurses who specialize in breast health.
Patients may also receive information about follow-up care and other healthcare matters.
Removing the barriers
To make it as convenient as possible for more women to get screened, the van provides mammograms at a wide variety of locations that allow easy access. These include:
local businesses and large corporations
senior centers
healthcare facilities
condominium complexes
community organizations
churches
Native American reservations
Suffolk County prisons
fire departments
libraries and other locations
Generally, a facility arranges a van visit for a specific day, and women ages 40 and older in the community are invited to make advance appointments. Walk-ins will be screened when possible, but advance appointments are preferred. The van is wheelchair and ADA accessible.
(The content of this publication is solely the responsibility of the authors and does not necessarily represent the official views of Health Research, Inc. or the State of New York.)