Main Body Text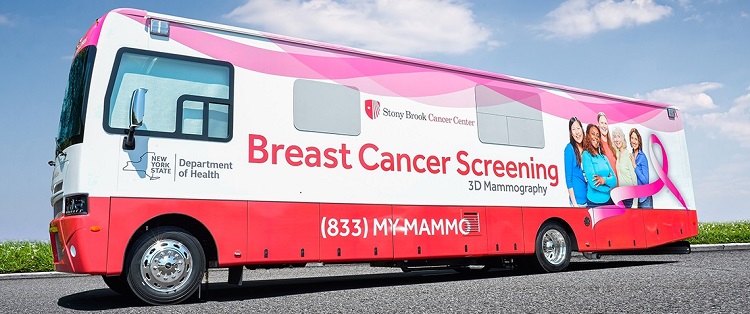 TAKE A VIRTUAL TOUR HERE
For more information, call (833) MY-MAMMO
Our Mobile Mammography Van team is on a mission: to make sure every woman on Long Island, age 40 and older, who needs a mammogram has easy and convenient access. And no prescription is needed.
All year long, our fully outfitted Mobile Mammography Van travels throughout Suffolk and Nassau counties to key locations. The van is spacious and features a registration area, a comfortable waiting room, private changing and exam spaces, and state-of-the-art 3D equipment.
Mammo Van Patient Experiences
We ask every patient for their anonymous feedback about their Mammography. Here's what they've shared:
"The staff were wonderful! I was petrified and they made me feel comfortable. They explained everything very well. I'm no longer afraid. Great staff and service. Thank you."
"Very professional, extremely informative, caring and compassionate. Can't beat that combination."
"Everything went smoothly - I felt comfortable and staff was so nice - nothing to change."
"Everyone was excellent and friendly. Very informative."
"Outstanding! No improvements."
"Did a great job explaining each step and both the tech and reception staff were very courteous and helpful."
"Continue to do what you are doing. These ladies went above and beyond. Thank you so much."
"Great people, doing a great job."
"My experience was great from signing up to finishing the test. The staff was wonderful."
"What a phenomenal benefit!"
"Come back every year!"