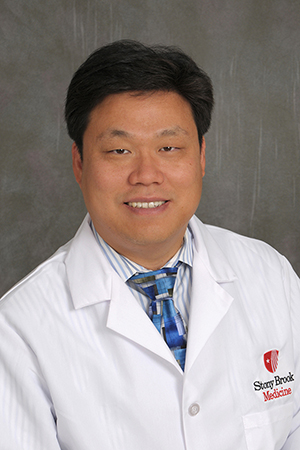 Choi Research Lab
Minsig Choi, MD
Associate Professor, Department of Medicine,
Renaissance School of Medicine at Stony Brook University
Research Program
Oncogenic Drivers and Mechanisms of Carcinogenesis
Department
Department of Hematology and Oncology
Research Interest
I have been actively engaged in clinical and translational research in the field of gastrointestinal cancer for the last 15 years with a special interest in pancreas and gastric cancer. My research also involves close collaborations with basic researchers, pathologists, surgical oncologists and radiation oncologists. We know that multidisciplinary treatment improves clinical outcome in complex cancer. I am also working with Eugene Feinberg, PhD, and his colleagues, in the Department of Applied Mathematics and Statistics, to improve decision-making for cancer treatment using Markov models.
Education
Medical School: Far Eastern University
Residency: Finch University of Health Sciences, Internal Medicine
Internship: Far Eastern University Hospital, Rotating
Fellowship: Wayne State University, IM-Oncology 
Publications
A complete list of publications can be found
HERE
.