Contact Information
Office 
(631) 444-3293
Email 
kathleen.dickman@stonybrook.edu
Stony Brook Medicine
Department of Pharmacological Sciences
Basic Science Tower, Level 8, Room 152
101 Nicolls Road
Stony Brook, NY 11794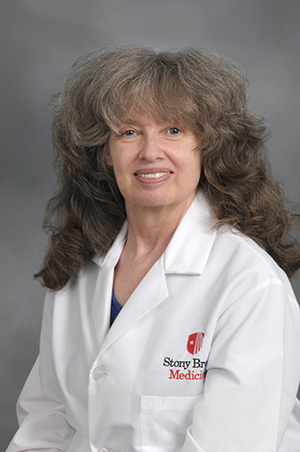 Dickman Research Lab
Kathleen Dickman, PhD
Associate Professor, Department of Pharmacological Sciences,
Renaissance School of Medicine at Stony Brook University
Research Program
Oncogenic Drivers and Mechanisms of Carcinogenesis
Department
Department of Pharmacological Sciences and Department of Medicine-Nephrology
Research Interest
As a classically trained renal physiologist, my research interests have been focused on the kidney, with current emphasis on the etiology, epidemiology and detection of urinary tract cancers induced by aristolochic acid, a nephrotoxic carcinogen produced by all Aristolochia plants. Covalent adducts form between DNA and aristolochic acid metabolites, and cancers, particularly urothelial tumors, can arise from the resulting mutations. Human exposure occurs through ingestion of herbal medicines that contain Aristolochia plants, which we have documented in Taiwan and other populations around the world; and through agricultural contamination of wheat fields with Aristolochia plants, as we have reported for endemic sites of urothelial cancer found in several Balkan countries. Also, we recently developed a urine-based "liquid biopsy" named UroSEEK that can be used for non-invasive detection of urothelial cancer by genetic analyses of urinary cell DNA. 
Education
BA (Biology), University of Connecticut, Storrs CT, 1978
PhD (Physiology), University of Connecticut, Department of Physiology & Neurobiology, Storrs CT, 1985
Postdoc (Renal Physiology), Duke University, Department of Cell Biology, Physiology Division, Durham NC, 1985-1989
Publications
A complete list of publications can be found
HERE
.