Contact Information
Office 
(631) 444-3000
Email 
yupo.ma@stonybrookmedicine.edu
Stony Brook Medicine
Department of Pathology
Basic Sciences Tower, Level 9
101 Nicolls Road
Stony Brook, NY 11794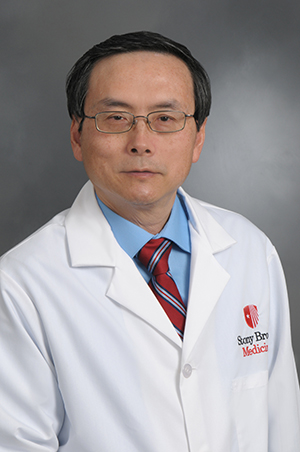 Ma Research Lab
Yupo Ma, MD, PhD
Professor, Department of Pathology,
Renaissance School of Medicine at Stony Brook University
Research Program
Oncogenic Drivers and Mechanisms of Carcinogenesis
Department
Department of Pathology
Research Interest
Dr. Ma's recent studies are focused on a stem cell therapy by using adult somatic cells and turning back the development of these cells so they act like embryonic cells. This process, called retrodifferentiation, produces pluripotent stem cells. These induced pluripotent stem cells (iPS) in combination with growth factors can then be redifferentiated into cells that may be used to treat specific diseases. 
Education
MD: Jinan University (P.R. China), College of Medicine
PhD: University of South Alabama College of Medicine 
Publications
A complete list of publications can be found 
HERE
.