Contact Information
Office 
(631) 444-7726
Email 
Alison.Stopeck@stonybrookmedicine.edu
Stony Brook Medicine
Department of Hematology and Oncology
101 Nicolls Road
Stony Brook, NY 11794-8151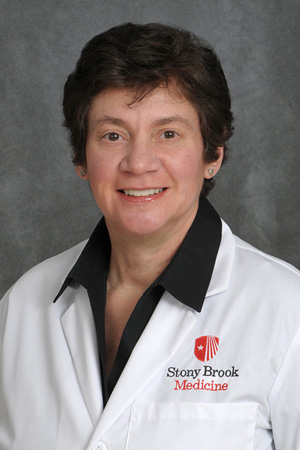 Stopeck Research Lab
Alison T. Stopeck, MD
Chief, Division of Hematology/Oncology and
Associate Director of Clinical and Translational Research,
Stony Brook University Cancer Center
Professor, Department of Medicine,
Renaissance School of Medicine at Stony Brook University
Research Program
Imaging, Biomarker Discovery and Engineering Sciences
Department
Department of Hematology and Oncology
Research Interest
I am involved in clinical research in breast cancer including clinical trials focused on all stages of disease. Much of my research involved incorporating state-of-the-art imaging methods into clinical trials involving novel therapies and companion circulating and tissue biomarkers. Current interests include biomarker discovery including the use of functional imaging for predicting breast cancer risk and response to antitumor therapies. My work also focuses on understanding the tumor microenvironment and characterizing circulating biomarkers for disease prognosis and targeted therapies. 
Current Research Focus:
• Role of non-steroidal anti-inflammatory drugs (NSAIDs) in breast cancer prevention
• Improving clinical outcomes and our understanding of immunotherapy approaches in breast cancer
Education
Medical School: Columbia University College of Physicians & Surgeons
Residency: Columbia Presbyterian Medical Center, Internal Medicine
Fellowship: Cornell University Medical College, IM-Hematology/Oncology
Publications
A complete list of publications can be found 
HERE
.