Contact Information
Office 
(631) 444-3199
Email 
jiang.chen@stonybrookmedicine.edu
Stony Brook Medicine
Departments of Pathology and Dermatology
101 Nicolls Road
Basic Sciences Tower, Level 9, Rm 151
Stony Brook, NY 11794-8691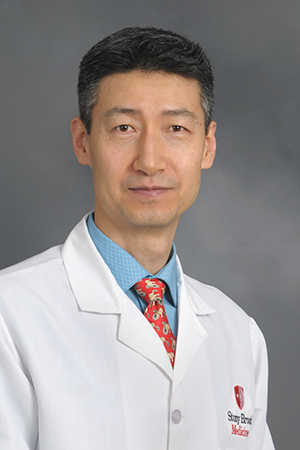 Chen Research Lab
Jiang Chen, MD
Associate Professor, Departments of Pathology and Dermatology,
Renaissance School of Medicine at Stony Brook University
Research Program
Oncogenic Drivers and Mechanisms of Carcinogenesis
Department
Departments of Pathology and Dermatology
Research Interest
Research Summary:   
My laboratory is interested in using the skin and hair follicles as model systems to understand signaling pathways involved in epithelial development, homeostasis and cancer.  Recently, my laboratory discovered that tissue-specific PCP effector genes are essential for the formation of the primary cilium, which is indispensible for processing hedgehog (Hh) signals during follicular keratinocyte differentiation.  The main focus of my current research is to use genetically engineered mutant mouse models to determine how PCP signaling and primary cilia regulate keratinocyte proliferation, migration, differentiation during skin development and skin cancer formation.  Knowledge gained from these studies will provide important insights into hair loss and the development of skin cancers.  My laboratory is also involved in the development of keratinocyte stem cells-based therapeutic strategies for genetic skin disorders caused by keratin mutations, such as epidermolytic hyperkeratosis (EHK) and pachyonychia congenita (PC).
Education
MD: Henan Medical University, China
PhD: University of Heidelberg
Publications
A complete list of publications can be found
HERE
.