Contact Information
Office 
(631) 469-7176
Email 
Jun.Chung@stonybrookmedicine.edu
Stony Brook Medicine
Department of Pathology
Basic Sciences Tower, Level 9
101 Nicolls Road
Stony Brook, NY 11794-8691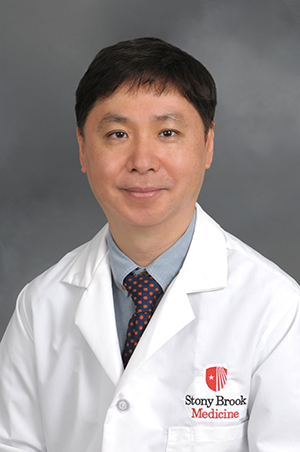 Chung Research Lab
Jun Chung, PhD
Associate Professor, Department of Pathology,
Renaissance School of Medicine at Stony Brook University
Research Program
Oncogenic Drivers and Mechanisms of Carcinogenesis
Department
Department of Pathology
Research Interest
My research is focused on development of therapeutics and diagnostics for breast cancers. Specific emphasis is on the molecular signature that makes Triple Negative Breast Cancers (TNBCs) aggressive so that TNBC specific biomarker and therapeutic intervention can be developed. My laboratory has made substantive contributions in the area of integrin beta4 signaling in breast cancer invasion and metastasis. The current focus is on the development of targeted therapies in TNBC model by targeting integrin beta4 signaling and its downstream micro-RNAs. My laboratory is particularly interested in characterizing tumor suppressing micro-RNAs whose expression is suppressed in metastatic breast cancers such as TNBCs. Current projects involve chemical modification of these tumor suppressing micro-RNAs to enhance their therapeutic efficacy and delivery. Multiple projects in these subjects are currently available for PhD thesis and post-doctoral training.
Education
BS: Yonsei University, Seoul, Korea
MS: University of Minnesota, Minneapolis, MN
PhD: Washington University School of Medicine, St. Louis, MO
Publications
A complete list of publications can be found
HERE
.