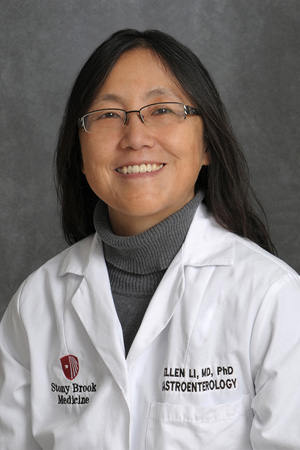 Li Research Lab
Ellen Li, MD, PhD
Professor, Department of Medicine,
Renaissance School of Medicine at Stony Brook University
Research Program
Oncogenic Drivers and Mechanisms of Carcinogenesis
Department
Division of Gastroenterology and Hepatology
Research Interest
Dr. Li's focus is on prevention, diagnosis, and treatment of digestive diseases. Her current research interests are on defining the role of the gut microbiome in digestive diseases, particularly in inflammatory bowel diseases, colon cancer, and functional GI disorders, such as irritable bowel syndrome. Her specialty, as a scientist, is in translational research; focusing on taking scientific discoveries and translating them into ways to help improve people's health. Dr. Li participates in the training of medical students, residents, and fellows at the Stony Brook University School of Medicine. She also mentors several undergraduates as well as high school students in conducting independent research projects in her laboratory. Dr. Li is especially interested in improving undergraduate premedical education, particularly for students coming from disadvantaged backgrounds.
Education
MD and PhD, Washington University School of Medicine, Medical Scientist Training Program, St. Louis, MO, in 1980
Publications
A complete list of publications can be found
HERE
.