Contact Information
Office 
(631) 444-7726
Email 
Huichun.zhan@stonybrookmedicine.edu

Stony Brook Medicine
Department of Hematology and Oncology
Health Sciences, 15th Floor, Room 89
101 Nicolls Road
Stony Brook, NY 11794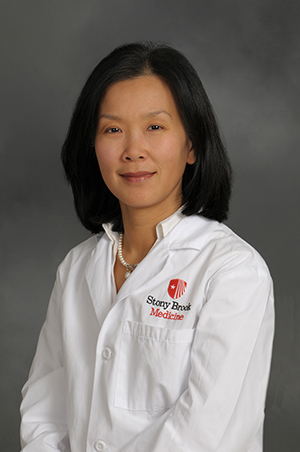 Zhan Research Lab
Huichun Zhan, MD, MS
Associate Professor, Department of Medicine,
Renaissance School of Medicine at Stony Brook University
Research Program
Oncogenic Drivers and Mechanisms of Carcinogenesis
Department
Department of Hematology and Oncology
Research Interest
The Zhan lab focuses on the pathogenesis and treatment of myeloproliferative neoplasms (MPNs). The MPNs are clonal stem cell disorders characterized by hematopoietic stem cell expansion and overproduction of mature blood cells. Patients with MPNs suffer from many debilitating complications such as leukemia transformation and arterial or venous thrombosis, with cardiovascular events being the leading cause of morbidity and mortality in these patients. The acquired kinase mutation JAK2V617F plays a central role in these disorders. Mechanisms responsible for the neoplastic stem cell expansion and hypercoagulability are not fully understood, limiting the effectiveness of current treatment. Our lab investigates the physiological effects and molecular mechanisms by which the JAK2V617F mutation alters endothelial cell and megakaryocyte function in the hematopoietic microenvironment to promote cancer stem cell expansion, and in the general vasculature to affect hemostasis and thrombosis in patients with MPNs. The ultimate goal of our research is to understand the fundamental principles of stem cell biology and develop more effective therapies for patients with MPNs and other hematologic malignancies.
Education
MD: Peking Union Medical College, Beijing, China
MS: Cornell University Weill Graduate School of Medical Sciences, New York
Publications
A complete list of publications can be found 
HERE
.