History and Our Mission
In 1996, the Carol M. Baldwin Breast Care Center was dedicated in recognition of breast cancer survivor Carol Baldwin's efforts to raise funds for cancer research. Under the expert leadership of Brian J. O'Hea, MD, the Center continues its mission of providing patients with exceptional and compassionate care. The team of surgeons, radiation oncologists, radiologists and medical oncologists, along with specially trained and dedicated nurses, are proud to offer individualized attention and quality cancer services to their patients, close to home.
The Breast Care Center has many roles within Stony Brook Cancer Center:
First, it will provide easily accessible screening and integrated multispecialty evaluation for women with a breast lesion. Expert care by surgical, medical and radiation oncologists will be rapidly available. Appropriate comprehensive support services will also be provided, regardless of ability to pay.
Second, the Center will serve as an education focus for medical students, surgical residents, primary care residents, and oncology fellows. It will also serve as a forum for exchange of ideas amongst the oncology specialists.
Third, the Center will be an active participant in ongoing and new clinical trials. The Center will help recruit and evaluate patients for research protocols and collaborate with basic science researchers in breast cancer.
Fourth, the Center will represent a resource for community physicians, leaders and women seeking information and education on the prevention and treatment of breast cancer.
Fifth, the Center will participate and support public relations campaigns originated by Stony Brook Cancer Center.
Carol M. Baldwin's Long-Lasting Legacy Remembered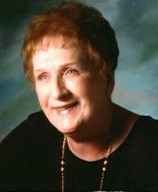 Carol M. Baldwin was born in Syracuse, NY, on Dec. 15, 1929, and attended Syracuse University where she met her husband Alexander Rae Baldwin. Jr. In 1954, they relocated to Massapequa, Long Island, where they raised their six children. Decades later, Carol returned to Syracuse to be near her daughter. On May 22, 2022, Carol died at the age of 92 with her family by her side.
Becoming an Advocate for Fellow Survivors

In 1983, after 29 years of marriage, Carol's husband died of lung cancer and in 1990, Carol was diagnosed with breast cancer.
For much of her adult life, Carol M. Baldwin was known as the mother of the world's most famous acting family (Brothers: Billy, Stephen, Alec and Daniel Baldwin). What is less known about Carol, was her struggle with breast cancer, which nearly took her life.
After undergoing a double mastectomy, Carol decided to help other women overcome the struggles associated with breast cancer.
Creating the Research Fund
In 1996, turning tragedy into courage, Carol with family, friends and health professionals, formed The Carol M. Baldwin Breast Cancer Research Fund, Inc. to fight and ultimately win the battle against breast cancer. The Fund's primary purpose was to provide the money so desperately needed for researchers seeking the causes, prevention and treatment of breast cancer.
To date, The Carol M. Baldwin Breast Cancer Research Fund, Inc. has funded 47 research grants totaling $2.35 million dollars, with the promise of more to come.
Carol M. Baldwin served as Chairwoman of the Board for the Fund and supervised all aspects of organizational growth. As a breast cancer survivor, Carol used her experience to heighten understanding of this disease. She was a popular public speaker and was actively involved in strategic planning and raising funds to support research.
Naming of Center

In 1996, Carol was honored in East Setauket, New York with the dedication of a breast care center in her name. The Carol M. Baldwin Breast Care Center, which opened in 1995 and is still operating today, is part of Stony Brook Medicine and provides services, including mammograms, biopsies, doctor visits and psychological support for women. In 2007, the center moved to a new building at 3 Pellegrino Road, Stony Brook, New York.

Mapping Project
Carol M. Baldwin was actively involved in the largest mapping project in New York State. The Onondaga Breast Cancer Mapping project provided critical information about the incidence and prevalence of breast cancer. One of the interesting findings from the mapping project revealed that affluent homes had the highest rate of breast cancer. The Mapping Project itself built on existing efforts that raised awareness and encouraged women to adopt the lifesaving practices of regular self-examinations, clinical breast exams and mammograms.

Always Supported

Carol M. Baldwin's family always provided moral support to her during her advocacy work and joined in enthusiastically to contribute and participate in her special fundraising events. Her children and their spouses: Elizabeth Baldwin Keuchler (Charles Keuchler), Jane Baldwin Sasso (Randy Sasso), Alec (Hilaria Baldwin), Daniel Baldwin, William Baldwin (Chynna Phillips) and Stephen Baldwin (Kennya Baldwin). Carol is also survived by 25 grandchildren and 14 great-grandchildren (May 2022).
(Information provided by The Carol M. Baldwin Breast Cancer Research Fund, Inc.)
Stony Brook Matter's (May 31,2022): Carol M. Baldwin's Long-Lasting Legacy Remembered