Contact Information
Office 
(631) 444-3978
Email 
bruce.demple@stonybrook.edu
Stony Brook Medicine
Department of Pharmacology
Health Sciences
101 Nicolls Road
Stony Brook, NY 11794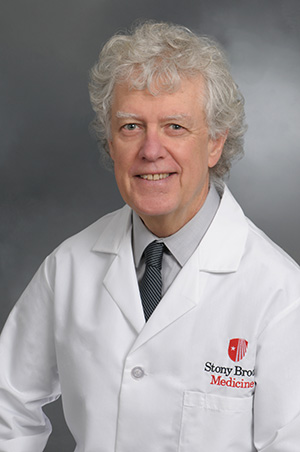 Demple Research Lab
Bruce Demple, PhD
Professor, Department of Pharmacology,
Renaissance School of Medicine at Stony Brook University
Research Program
Oncogenic Drivers and Mechanisms of Carcinogenesis
Department
Department of Pharmacology
Research Interest
My research has engaged a range of topics at the intersection of biomedicine and the environment. This interest has been driven by trying to understand how cells defend against damaging molecules that are endogenous to cells but also produced by environmental agents. One strong theme has been defining the biochemical and biological functions of repair pathways for oxidative DNA damage.  Another major theme of his work has been discovering and defining genetic regulatory systems that govern cellular responses to oxidative stress and nitric oxide. These two areas synergize in various ways: for example, the oxidative stress caused by arsenite exposure activates the   APE1  gene, which encodes a central component of DNA repair and is vital to cell survival. Recent studies expanded his analysis to mitochondria, the cellular energy organelles that maintain their own DNA genome. DNA repair in mitochondria was considered very limited, but these studies have demonstrated new proteins and pathways that were previously thought lacking. Investigations continue on Ape1 protein functions in the cell beyond DNA repair, and on understanding the mechanisms that partition oxidative DNA lesions among competing repair and mutational pathways.
Education
BA: Wesleyan University
PhD: Biochemistry, University of California, Berkeley
Postdoctoral: Imperial Cancer Research Fund, London, UK
Publications
A complete list of publications can be found
HERE
.