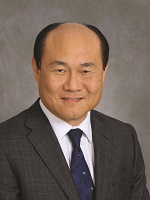 Welcome to the Department of Radiation Oncology at Stony Brook University Hospital. Our mission is to bring the highest quality of compassionate cancer care to patients through the use of advanced knowledge and cutting-edge technology. In achieving this priority, we strive to provide a world-class cancer program that incorporates academic excellence alongside innovative research endeavors.
Our faculty members are highly experienced board-certified radiation oncologists providing clinical care within a multidisciplainry team and participating in research in their field of expertise. We are joined with Stony Brook Cancer Center and post graduate training programs at Stony Brook University, as we continue to attract the top candidates from around the country to these programs. Our department also hosts outstanding programs in Radiation Physics and Medical Dosimetry as we train the future leaders in radiation oncology, while ultimately contributing to the advancement and improvement of cancer therapy.
Our department has some of the most advanced state-of-the-art radiation delivery platforms and image-guidance systems. Although having the highly advanced technology is impressive, more important is the experienced and integrated Radiation Oncology team members who will ultimately apply the computerized technology treatments to our patients. These treatments are performed under strict quality assurance (QA) guidelines. Patient safety is a commitment we all share as we continue to deliver the highest quality care in a compassionate manner to our patients through a streamlined, service-oriented, clinical environment.
We believe our success is measured along a broad spectrum of activities focused upon our provisions of clinical care, research and education. We recognize that delivering the highest quality of care to our patients is our primary goal. When we work in the clinic, laboratory, or teach tomorrow's healthcare professionals, we know that your families, and ours, are counting on us and together we are shaping future leaders. In the endeavor of clinical excellence, education and research, we ask for your feedback and encourage interactions with us. Thank you.
Our multidisciplinary team of experts in patient care includes:
• Board-certified radiation oncologists
• Nurses and care providers
• Medical physicists and dosimetrists
• Radiation therapists
• Computer scientists
• Clinical care managers
Stony Brook's Quality Assurance (QA) committee and the Office of Radiation Safety insure that the department meets guidelines of radiation safety.
Samuel Ryu, MD
Chair, Department of Radiation Oncology
Deputy Director, Clinical Affairs, Stony Brook Cancer Center