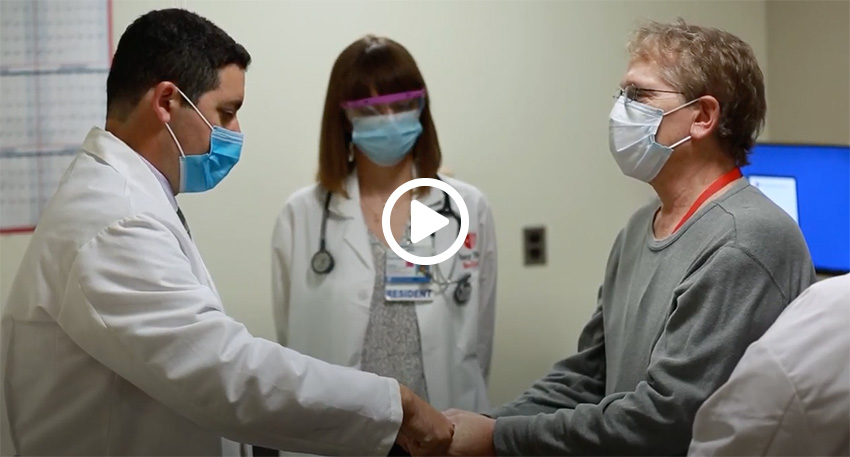 Welcome to the Radiation Oncology Residency Training Program
Welcome to Stony Brook Radiation Oncology Residency Program. Throughout the four years of training, our residents will work one-on-one with leaders in Clinical Radiation Oncology, Medical Physics, Translational Research, and Basic Science.
Residents will become highly trained in Radiation Oncology with contemporary radiobiology and medical physics, utilizing modern radiotherapy techniques, including the Edge Radiosurgery System, external beam therapy with new Truebeam linear accelerators with on-board imaging, and CT-Simulator with 4D CT and gating.  Residents will also be trained in the brachytherapy using most 12 channel Varisource HDR Unit, Eclipse TPS, and Aria R&V system, and various liquid radioisotope therapy performed within the department. The HDR prostate and skin brachytherapy also occurs within the Radiation Oncology clinic space. These education experiences will go side-by-side with our Physics Residency Program.  Our graduates will be well prepared to practice and become leaders in Radiation Oncology.
It is an exciting time in Radiation Oncology with technological advances and molecular and immunological breakthroughs improving our understanding of cancer and Stony Brook occupies a special position on the very forefront of academic medicine, ushering innovative ideas from the laboratory to the bedside. The Department of Radiation Oncology at Stony Brook continues to grow at an unprecedented pace with new research-oriented faculty members and translational research.
There are 14 specialized tumor boards within the Stony Brook Cancer Center, for multi-disciplinary patient care and collaboration.  Our faculty members play leading roles in the multidisciplinary clinic of Head and Neck cancers, as well as lung, GI, and prostate cancer clinic.
Our faculty members are recognized as patient advocates, pioneers in research, and leaders in academic radiation oncology.  They are dedicated educators who are ever approachable. It is our constant effort that the department creates a dynamic environment in which the residents can train, coupled with our commitment to cutting-edge technology, basic and translational research, clinical trials, and multidisciplinary patient-centered cancer care.  Our residents will also be at the center of our Department for education and research missions. The resident will also have the opportunity to teach the medical part at our dosimetry school, and medical physics residency program. The residents will participate in the ongoing laboratory and translational research as well as clinical trials depending on individual interest levels as part of career development. We believe that you will become a compassionate, intelligent, and accomplished radiation oncologist, and truly become the best and brightest in cancer medicine.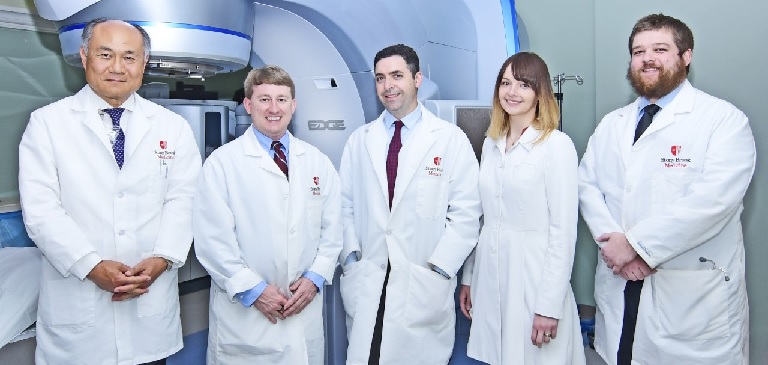 Radiation Oncology Residency
The Four-Year Radiation Oncology Residency (PGY 2 – PGY 5) is available to those who have completed their first post-graduate year.  Our program participates in the National Resident Matching Program (NRMP).
Residents will work in the Department of Radiation Oncology at Stony Brook Medical Center in an academic clinical setting with the opportunity to have experience in a community setting at a recently opened Philips Family Cancer Center at Southampton. 
Program Director:   Alexander Stessin, M.D., Ph.D.
Program Coordinator: Ms. Vivian Panicci
---
 Chief Resident
Collin Noldner, MD
Undergraduate Studies: Augustana College 
Medical School: University of South Dakota Sanford School of Medicine  
Hometown: Sioux Falls, South Dakota
Hobbies: playing tennis and golf, reading literary fiction, playing chess, hiking with my wife and dog 
---
PGY4 Resident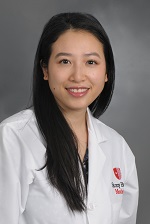 Jieying (Joanne)Wu,MD
Undergraduate Studies: Cornell University 
Medical School: Stony Brook School of Medicine 
Hometown: Brooklyn, New York
Hobbies: trying new restaurants, yoga, playing ukulele
---
PGY3 Resident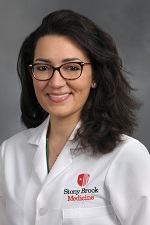 Dulce M. Barrios, MD, MS 
Undergraduate Studies: Columbia University 
Medical School: SUNY Upstate Medical University  
Hometown: Miami, Florida
Hobbies: traveling, dancing, biking 
---
PGY2 Resident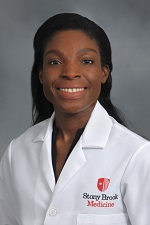 Gloria Abbey, MD
Undergraduate Studies: Georgia Institute of Technology
Medical School: American University of Antigua
Hometown: Accra, Ghana
Hobbies: Sewing, hiking, playing tennis
---
Alumni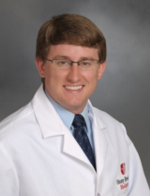 John D. Roberson, MD
Undergraduate Studies: Duke University
Medical School: University of Alabama at Birmingham School of Medicine
Hometown: Birmingham, Alabama 
Post-residency: Southeast Radiation Oncology Group; Levine Cancer Institute - Cleveland Radiation Therapy Center; Charlotte, NC
---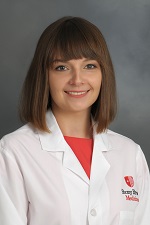 Ewa Zabrocka, MD 
Medical School: Medical University of Bialystok, Poland 
Hometown: Bielsk Podlaski, Poland 
Post-residency: Anchorage and Valley Radiation Therapy Centers; Anchorage, AK
---
OUR MISSION:
To train future practitioners and leaders in Radiation Oncology by providing a collaborative, multidisciplinary clinical and academic experience under a creative hands-on educational environment. Our radiation oncology residency program is fully accredited by the ACGME without warnings or citations. 
We seek to equip our graduates with the skills needed to diagnose and treat both common and rare oncological conditions; to become innovators in clinical, translational, and laboratory-based research; and to provide quality care for patients.
The program provides the trainees with structured cognitive and practical clinical education that will enable them to be competent, proficient and professional oncologists.  The trainees will have comprehensive knowledge in general oncology and in clinical and basic science.  They will learn the techniques, practice, knowledge, and methodology of radiation oncology, and be prepared for board certification.  The training will be fully covered by the faculty supervision in the expertise fields of Radiation Oncology, and the residents can have sufficient clinical experience with diverse oncological cases.  The program will provide the residents with advanced and comprehensive training, and will also provide rotations in other specialties.  The program is committed to developing an environment of collaborative teamwork, compassionate care, and to the training of physicians for academic practice and community cancer care. 
Clinical Activities:
Patient population: Patients with neoplasms ranging from benign tumors to malignancy regardless of age.  The department has over 1,200 new cancer consults per year.

Time for and location of in-patient experience. We have patient admission privilege for radioisotope specialty care.

Time for and location of out-patient experience: Radiation Oncology is primarily composed of out-patients daily in the Department of Radiation Oncology and the Cancer Center. 

Patient load requirements: the clinical volume allows our residents to easily meet the ABR requirement for board certification of at least 450 cases per resident with the site-specific breakdown as outlined in the latest ACGME program update

One-to-one interaction with faculty and supervision during clinical activities.

The training program will have a special emphasis on patient safety and quality care in achieving the competency of the resident.  This will be done by didactic lectures and continuous experience on how to increase safety in delivering radiation to the patient and making treatment decisions based on the evidence, and constant effort on quality improvement.

Research Activities:  Each resident will have a research project each year.  It can be either basic research, translational or clinical research.  The resident will be supervised by the attending physician or research faculty.  It is expected that residents be present at local or national meetings, and publish in peer-reviewed journals.  Basic research will be performed in the laboratory where departmental bench research is performed.  The resident can have a block time of 6-12 months depending on the topic and level of such research.  The research duration will be discussed with the program director and supervising faculty. Some of the current resident-led research projects include: The Effect of Whole Brain Radiation Treatment on Brain Volume; Integrated Clinical-Radiomic-Pathomic Analysis for Response Prediction in Patients with Head and Neck Cancer; Prospective Pilot Study of Stereotactic Body Radiation Therapy (SBRT) for Invasive Breast Cancer Patients Not Undergoing Definitive Surgery; Prospective pilot study of partial chest wall radiation therapy for positive or close margins after modified radical mastectomy for lymph node-negative breast cancer; Optimizing and streamlining the process of radiation oncology peer review using artificial intelligence; Integrated clinical-radiomic-pathomic analysis for response prediction in patients receiving stereotactic body radiation therapy for early-stage non-small cell lung cancer

Board Exams: To date, our residents' board exam pass rate has been 100%

To broaden the Resident's clinical experience at the community setting they can rotate in the Phillips Family Cancer Center of Southampton.